Tote Bag Travels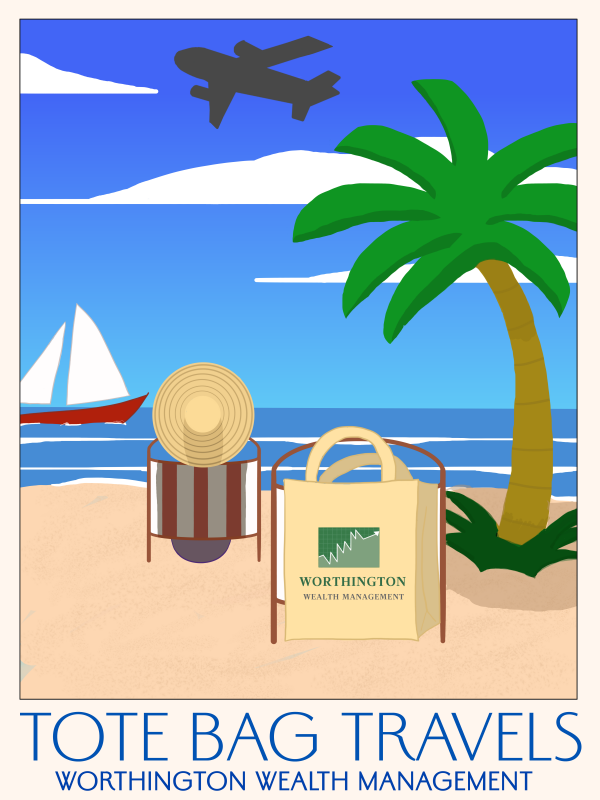 Our Worthington Wealth Management Tote Bags have become very popular because of their quality and size, and – of course – the great colors & logo! So much so that we're now seeing some of the cool places that our Tote Bags are going. Grocery stores, vacations, days at the beach… Tote Bag is showing up everywhere! We were so inspired that that we set up Tote's very own Flickr account to host the pictures of where Tote is going and we've turned it into fun, games, and prizes.
We're inviting everyone to snap a picture of your Tote Bag's adventures and send it to us to add to Tote's collection. You can also invite your friends and family to play along by using your Tote Bag. Tote's companion doesn't need to be a WWM client to enter our contest!
If you don't have a Tote Bag, or if you'd like another, just let us know and we'll send one to you.
Fun, Games, and Prizes!
Once per quarter for the next year we'll randomly choose a picture from Tote Bag's collection and the photographer that took it will win a $100 Amazon Gift Card. Then, in the summer of 2023, we'll pick a Grand Prize winner who will win something very special!
Enter multiple times! The more pics you submit, the better your chances of being a winner! Help us celebrate Tote Bag's travels with or without you, or with your family or friends, and get a chance to win!
Just send your Tote's pics to info@worthingtonwealth.com with a brief caption and the photographers' contact information.
If you need some inspiration, you can take a look at the Flickr page (https://www.flickr.com/photos/wwmtotebag/) where we've uploaded some photos from Tote's recent adventures!
Tote Bag Travels – Rules and Regulations
Entrants are not required to be clients of Worthington Wealth Management
Employees and families of Worthington Wealth Management are not eligible for drawings or prizes
All submissions must include a Worthington Wealth Management Tote Bag
Contest Begins 7/15/2022
Quarterly drawing deadlines for 2022-2023 will be held on:
Deadline for entry is 11:59 pm ET on the dates above
Drawings will take place on the next business day after the deadlines above
Quarterly prizes will be drawn from submissions received by the above deadlines
Grand prize drawing will be on 7/5/2023 from all submissions received 7/15/22 – 6/30/2023
Photographs do not need to be taken in the quarter in which they're submitted
Quarterly prizes will be one (1) Amazon.com gift card valued at $100 USD
Yearly Grand Prize will vary and have a value of greater than $100 USD
There is no limit to the number of submissions per contestant
All federal, state, local, and municipal laws apply. Void where prohibited
Participants consent to hosting pictures on our public website and contact by Worthington Wealth Management